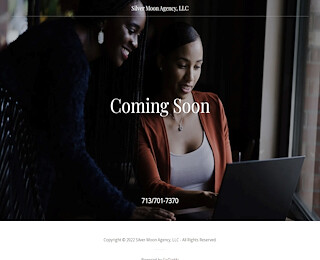 Silver Moon Agency is a full-service digital marketing agency in The  Woodlands, Texas, serving a diverse range of companies and industries that lack the marketing staff and/or expertise to run a digital marketing campaign in-house.
We strive to make publicity and marketing effective and accessible to everyone. Our job is to make your business stand out in the ever-growing world of the internet. From dynamic and eye-catching new websites to digital PR and social media campaigns and strategies, we bring every aspect of the marketing process under one roof so you can benefit from a single integrated approach.
Our Mission and Vision
At Silver Moon Agency, our mission is to impact our client's businesses positively. We accomplish this by understanding our client's business mission and their strategy to drives measurable results. ​ Our vision is to be Texas's number-one digital marketing agency that people recognize for always providing remarkable results and epic experiences.
Our Digital Marketing Services
Silver Moon Agency offers a wide range of services, including SEO, Web Design, Marketing, social media marketing, and end-to-end sales follow-up through text and email campaigns.
Our goal for digital marketing solutions for our clients is to understand their business needs and help with everything from customer acquisition to client retention. We aren't here to drive clicks that don't grow your business; we're here to drive sales and make your life easier by leveraging the latest technology.  As a result, we are one of the best Marketing Agencies in The Woodlands, Texas.
Why Choose Us for Digital Marketing
We aren't the ONLY digital marketing agency in The Woodlands, Texas.  However, only a few agencies offer customized solutions for your business. Here are a few reasons why you should choose Silver Moon Agency as your digital partner.
Latest Techniques
We strive to stay updated about the latest digital marketing trends and techniques we implement.
We regularly research the keywords used by people searching on the internet.  We monitor your website's backlinks to ensure they are quality referral sources. We look for market trends in your competitive environment and adjust your website to meet the trends.
Confidentiality
We work on a secure system to maintain the confidentiality of all the information our customers share with us.
Years of Experience
Silver Moon Agency brings to the table 45+ years of small business consulting in marketing with a wide variety of clients.
With our team's years of experience in this industry, we have marked our name with our persistence and perseverance.
Clear Communication
Our client management team consults with each client extensively to ensure we understand precisely what your goals are, and then we collaborate with our technical team to produce digital products that best accomplish your company's objective.  We establish and maintain clear and transparent communication with all parties in the process.
Regular Reports 
We've built robust reports that are dynamically updated so you can access them anytime, from anywhere.
End-to-end Solution 
We are a versatile company with the capacity to handle all marketing needs.  We have a professional team of service providers who have one collective goal — your company's success.
Transparent 
Transparency is essential to building trust. Our work is based on long-term relationships founded on mutual trust and honesty. 
Results Driven
We constantly track our efforts' outcomes and make changes to ensure you are getting the best return on investment possible.
Get In Touch With Us
Silver Moon Agency is here to build an effective marketing strategy that will increase your online presence and help you connect with your audience. We offer everything you need to expand your reach and achieve your business goals.
Contact us today to get started.